Profiles of Past Olowus of Owu Kingdom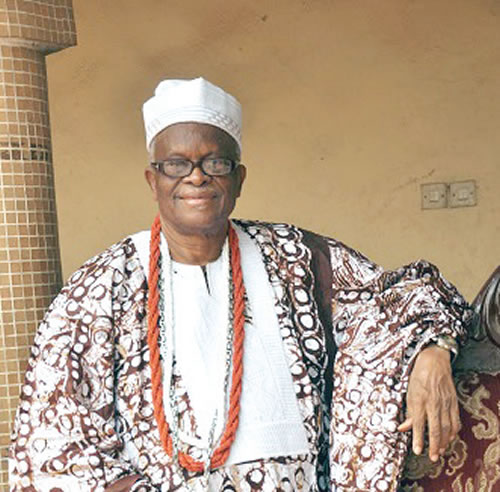 Oba Dr. Olusanya Adegboyega Dosunmu, CON, fta
2005- 2021
Akobi Oodua, Amororo II Olowu Kangunere Of Owu Kingdom, Abeokuta
BIRTH AND CHILDHOOD
His Royal Majesty, Oba Dr. Olusanya Adegboyega Dosunmu, CON, Fta was born of Prince Benjamin Okelana Dosunmu, the son of Oba Adesunmbo Dosunmu, Amororo I, Olowu of Owu, Abeokuta who reigned between 1918 to 1924.
EDUCATION
Owu Baptist Day School (Primary School)
Baptist Boys High School Owu, Abeokuta (Secondary School)
King's College, Lagos (Evening classes) – GCE Advanced Level- 1958
Hendon College of Technology, London – Degree in Drama and television Production
1962
WORKING EXPERIENCE
Dennis Duerden Theatre Agency London
Nigeria Broadcasting Service NBS
His major job then was to establish Drama, Art and Cultural Productions for Television in Nigeria.
He was the star-brain behind the Nigeria's most celebrated and popular Television Drama series titled "The Village Headmaster" as its Producer, Writer and Director for many years.
The Village Headmasters is on record as the most popular and longest running TV series of over 20 years (Ever-Green)
Starline Film Ltd (1972). This private company of Prince Sanya Dosunmu produced many films including Dinner with the Devil, Festac 77 Official Film, Eye of Life
POLITICS
Prince Sanya Dosunmu Joined Politics in 1976 and became the Chairman, Abeokuta Local Government in 1976
He relocated the Isabo market from its hither-to hazardous location on the narrow way in Isabo with high record of incessant loss of lives resulting from motor accidents, to Kuto where it is till today.
He abolished the use of 'Molue' and encouraged mini-buses for commuter services, comfort and convenience of travelers and transporters.
He initiated the move to take road mechanics to locations outside Abeokuta – a move which was later taken over by the Ogun State Government under late Chief Bisi Onabanjo.
He also banned night parties in order to reduce massive death tolls that took place as a result of drunkenness after such parties.
Chairman Olusanya Adegboyega Dosunmu built 4 ultra modern motor parks at Asero, Kuto, Aiyetoro Road, and Ita-Oshin areas of Abeokuta. His regime was marked with success stories of development, progress and peace. His achievements are still there for all eyes to behold and appreciate till today.
MARRIAGE AND FAMILY LIFE
Dr. Olusanya Adegboyega Dosunmu is happily married to Olori Bosun Dosunmu and blessed with many successful children. He is a loving and caring father of no mean impetus.
ON THE THRONE
On 3rd of October, 2005 Prince 'Sanya Dosunmu was coronated and installed, as the 13th Olowu of Owu Kingdom, Abeokuta.
Oba Dosunmu is vast in Royal history Culture and tradition. His carefully chosen royal appellation of "Kangunere, Amiwo Aja, Akobi Oodua, Amororo II" extols the virtues of our ancestral heroes past as well as exhibits royalty, dignity, valour, strength, love and peace being clearly depicted in the Olowu Kangunere's royal symbol of authority.
Oba Olusanya Adegboyega Dosunmu is a large scale farmer who owns and manages farm lands.
APPOINTMENTS AND HONOURS
Chairman of SIFAX Groupof which a subsidiary, Ports and Cargo Handling Services (PCHS), operates Terminal C, Tin Can Island Port Complex and through another subsidiary (SACHOL) handles passengers at the Nigerian Airports.
He is a life patron of Abeokuta Club and grand Patron of Owu Club.
Omolafe of Owu, 1968, Omoluberin of Owu, 1975.
He was appointed President of the Council of Owu titled Princes and Princesses in 1994 during the tenure of Oba Dr. Olawale Adisa Odeleye, Lagbedu I – the immediate past Olowu.
He is also a recipient of UNESCO Honour as promoter of Cultural activities in Nigeria.
He is a Fellow of the Theatre Arts of Nigerian (Fta).
He is a recipient of National Honour (CON) – Commander of Order of Niger
CHRISTIAN LIFE AND MISSIONS
Omoba 'Sanya earned a Doctorate Degree (Phd) in "Christian Missions" having successfully attended theological training in the United State of America.
He served the Lord in various capacities including being a Sunday School Teacher of note. He is an erudite scholar, evangelist and preacher in the service of Christ and mankind,
He is up till this very moment a Missionary and Field Director of an International group known as "The Source of Light Ministries International" with Headquarters based in Madison Georgia, USA.
Oba Dosunmu is a sower in the vineyard of the Lord and has planted many churches across the south-west of Nigeria all of which he nurtures to success.
He also established a living church at Oke Ago Owu, the Mainland of Owu Kingdom. The Church is the very first Church building in Oke-Ago Owu since 1834.
OBA DR. OLUSANYA ADEGBOYEGA DOSUNMU CON, fta